TMCC (Visitor) Junior Rider Profile: Alexander Adamson
Age in 2019: 10 years (u11)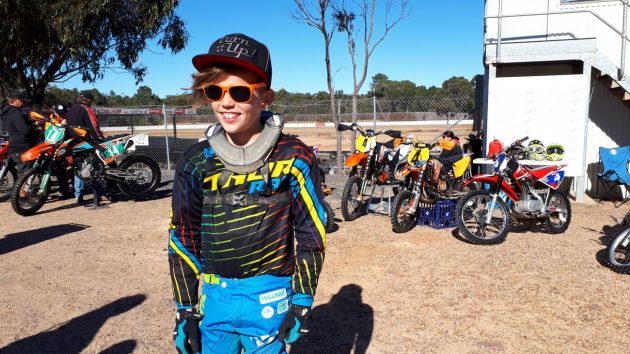 1. My first motorbike ride
My first motorbike ride was at Nepean Raceway in Penrith on my PeeWee50. I got it for my 4th Birthday.
2. The reason I started riding a motorbike
I used to watch my dad race and see the Nippers ride and I wanted to get a bike then.
3. My first motorbike and other bikes I have ridden
My first bike was a Yamaha PW50, then a KTM50, KTM65, Honda CRF80 (standard and Mod) and KTM85.
I also have a Speedway bike and a Kayo MR150 Road bike.
I sometimes do a bit of Motard on my KTM85.
4. Members of my family who ride motorcycles
My Dad and young brother, Jacob, ride bikes.
Mum had a go once but stacked it, LOL.
5. People who support me with/sponsor my motorcycle riding
Mainly my Dad, he buys me the bikes, gets them ready and takes me to the track.
6. My Home Club, the year I become a TMCC member and my favourite part of the TMCC track
I ride at a lot of tracks but mainly Central Coast and Kurri Kurri.
I became a member of TMCC this year and have raced the Twighlight meeting and a practice and club day.
My favourite part of the Taree track is probobly coming onto the straight, the grip is really good.
7. My other sports or hobbies
I also play soccer for Emu Plains and play the electric guitar.
8. My favourite sportsperson
I like to watch Speedway and Motorcross so the Holder brothers and Jason Anderson.
9. Classes I have been riding in during 2019
I've been racing in the 65 9-u13 and the 85 u11.
I also ride my CRF80 Mod at big events.
10. What I like best about riding a motorbike
The best thing I like about riding a bike is the speed and sliding the bike and racing against my mates.